The voters in the Melbourne Seat of Melbourne go to the polls this weekend.  It's really a battle between the Greens and Labor.  The Liberal party didn't field a candidate.
There's 16 candidates lining up for a crack at the seat. Â Others standing include 10 independent candidates, 3 christian type parties and the Sex Party. Â  Guess which ones I want to focus on?
In particular there is Maria Bengtsson.  She's standing for the Australian Christians.  The party itself has been in the news the last week or so because of their name.  Some of the christians are upset that they use the name Australian Christians because it gives the impression that they represent all Australian chrisitans.
I've blogged on this lot before. Â They ran a candidate in the Niddrie by-election back in March 2012. Â In that blog I said this:
The Australian Christians think they have a chance of being the third force in Australian politics.  I think the electorate will stay clear of anyone who claims to represent judeo-christian values.  They'll flounder and make minimal impact and be added to the growing pile of defunct Australian political parties.
They're clearly not so defunct just yet, but looking at the results of that poll back in March we see that they barely managed 6% of the vote getting just 1,588 of the 36,808 primary votes.1. Â Considering that the Liberals didn't run a candidate in that election either I'm not surprised that they got 6%.
AC's candidate for the Melbourne by-election is also a Pastor with the Assembly of God, she is an assistant pastor at the City West AOG church.
Ps Maria and Oke have three beautiful children and two equally beautiful grandchildren.They love seeing families grow together in church; they're extremely friendly and would love to meet you.
Bengtsson was interview on the ABC's PM program and she has this to say:
Well I'm not racist but what we don't like is another religious like Islamic people pushing their religion, their Halal food, their culture, their Sharia law.

We're against this as a Christian living in a Christian country and I represent 60 per cent, over 60 per cent of Christians in Australia.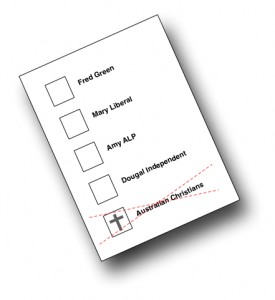 She's not racist but? Â She probably doesn't mean racism, but we can let it slide. Â Here's a candidate running for government under the guise of religion telling us she doesn't like religious people pushing their religion. Â Last time I went into a supermarket I was still able to buy plenty of non-halal food and as far as I know Sharia law is not part of the Australian legal system.
And her reason is that she thinks she represent 60% of christians in Australia? Â Pardon me while I chuckle.
Let's see what other delights Pasta Bengtsson has for us on the Australian Christians website:
To date this year in Victoria, over 8,000 babies have been aborted, some of these at full term.
No, full term babies are said to be born, you can't abort a born baby. Â Abortion is not an issue in Victoria. Â It's really only the christians that keep harking on about it.
In some instances, given another day or so these full term babies would be able to exercise their own voice to plead for a fair go but in Victoria the womb does not provide this protection.
Apart from the fact that the baby can't talk for a couple of years, and then another decade or so for them to comprehend abortion, the law if Victoria allows for abortion up to 24 weeks and then after 24 weeks you need the nod of two doctors. Â Sounds like simply emotive talk from another rabid fuck knuckle to me.
And neither do vulnerable young women have the real freedom of choice to know the health risks or alternatives to abortion.
The alternative to abortion is birth. Â To even suggest that young women don't have freedom of choice is just wrong, again. Â just simply emotive language to make an issue that's just not there.
While premature babies are viable and survive from about 20 weeks, there is no requirement to provide medical assistance for babies who survive abortion.
You don't survive abortion. Â That's the whole point.
The most vulnerable extend to our elderly, who we hear are too often being denied hydration, the basic provisions of food and water, and referred to hospices instead of hospitals when all they may require is life saving antibiotics.
We hear all to often that old people are denied water?   Where?  Who?  Sounds like you just made that up.  Sure some people don't  get the right amount of food and that needs to be addressed, but our nursing homes are not full of starving and thirsty people.  As to the antibiotics comment…
Australian Christians is compelled to be a strong voice for these most vulnerable in our society. And we are compelled to protect the basic freedoms many Victorians agree are being eroded.
Many Victorians agree? Â Perhaps in the City West AOG church out west they do.
We need to be on guard to ensure that our basic freedoms are not eroded, but I don't reckon some whacked out christian wannabe is the best person to deliver it.
Pasta Bengtsson is a born again christian who is only interested in keeping out anyone who doesn't love jesus.  She has no interest in representing anyone but christians.
She'll be lucky to get 1,000 votes.
Related Posts