[SOURCE]
So, a Brisbane man, Graham Preston, has been jailed for not paying his fines worth $8,000.  He was fined for trespassing and resisting arrest.  He places himself between women trying to enter a clinic and intimidates and stops them from entering.
The women are heading into the clinic for an abortion. Â This christian puts himself between the woman and the clinic. Â For the last ten years he has been fined. Â He's refused to pay. Â He's been asked over 100 times to pay the bill, but has refused.
Christian fuck-wits now think this serial pest is a hero. Â Me old mate Spinksys says this "Jailed for Being Pro-life"
Pro-lifer Graham Preston is facing 8 months in jail for peacefully protesting outside of abortion clinics. He is a strong reminder of the possible repercussions that can be faced for standing against immorality
No, he wasn't peaceful at all. Â He was trespassing and making a nuisance of himself. Â He was yelling in the faces of women trying to go about their personal business.
Billy the Mule has a bit to say too:
He is back at it again, willing to lose his freedoms on the behalf of the unborn. Graham is now back in prison for another eight months. His crime? Seeking to prevent those who would continue the genocide of the unborn. Just as earlier brave culture warriors – usually Christians – fought the evil slave trade, so too today some heroic believers are putting their life on the line for the unborn.
Actually, if Preston was interested in doing his bit, he would pay the fine so that he could continue to protest. Â Now he's locked up. Â And his crime was that he didn't pay the fines, not for preventing 'genocide of the unborn'. Â This is nothing like fighting the slave trade, and he is not putting his life on the line for anyone. Â He broke the law, he refused to pay the fine and has been locked up. Â It's really simple.
Meanwhile, Wally over at the ACL says this
Brisbane father Graham Preston has been jailed for eight months for peacefully protesting in front of the doors of Brisbane abortion clinics and refusing to move.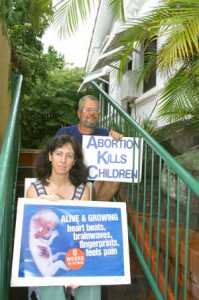 No, he was fined for trespass. Â He was fined for getting in the way. Â He was jailed because he didn't pay those fines, he was not jailed for peacefully protesting.
Christians just love to overlook the obvious. Â Call him a hero because they really need a hero.
The reality is the 'protest' is a vigil that sees someone sitting on the stairs blocking people trying to gain access to the building.  People visiting the clinic have to step over the protesters.  They sit there with their little signs that say "Abortion kills children" and think that they're doing gods work.
Those women visiting are confronted by people who think they know better. Â I don't know what it's like to decide to have an abortion, but I think people making that decision have already done a lot of thinking. Â This emotional protest is pretty grotesque and designed to make the woman feel guilt and cause deep emotional distress.
Preston is a fool, he should have paid the fines and ceased his obstruction. Â Instead he is now costing us more money and christians nutters reckon this is a good thing.
The values of christians is pretty fucked up. Â They want everyone to play by their rules alone. Â When the police or the state step in to remove them, they scream about being the victims and not having the freedom to protest.
Related Posts