[SOURCE]
Over at the blog called "The REAL Mary MacKillop" that says "A WEBLOG DEDICATED TO MARY MACKILLOP" we find a story that has nothing to do with Mary Fucking MacKillop. Â It's written by ultra-conservative catholic die-hard Arnold Jago
 Three women from a punk/rock band have been sentenced to two years prison for bursting into Moscow Cathedral and singing blasphemous songs last February.
I love it when people burst into churches, it's so dramatic!
The charge is "hooliganism motivated by religious hatred".
Sounds like a pretty decent charge. Â Can't have people bursting into churches and picking on the faithful. Â  Perhaps a better response from the faithful would be to simply laugh at them? Â You know, they have the almighty on their side and if he wanted to he could smite them very roughly.
A spokeswoman for the US State Department has said: "We urge Russian authorities to review this case and ensure that the right to freedom of expression is upheld."
Nothing said about protecting the right of Christians to worship without being subjected to insulting sacrilege.
Freedom of expression is really important, sure, it's not nice to burst into churches, but two years in jail is very excessive when the only thing hurt was someone's prayers to an imaginary friend.
Other Western governments have called the sentences "disproportionate".
That's because it is. Â What's wrong with a hefty fine. Â It's not like anyone was hurt.
What punishment would be "proportionate" for insulting Almighty God?
Hanging?
Shooting?
Flogging?
Let's hope that's tongue in cheek. Â But who says your god was insulted? Â It's not possible to measure how upset your god may be, because nobody has ever heard from him. Â You're simply making an assumption based on an outdated text.
Fortunately God doesn't always respond proportionately to our contempt for his goodness.
Well, there is no god to respond, that's why he never responds. Â It's only you religious lot that pretend that god is upset. Â If your god is so almighty, surely he can look after it himself? Â Why does he need your help?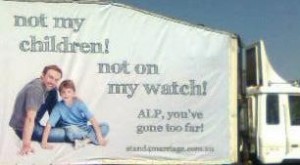 Two years in prison for doing an inappropriate thing in church is quite frankly appalling.  How does this sentence compare with the woman who stole $40,000 from her employer?  She got two years. Maybe this woman who drowned her baby.  She got three years.
Every day churches parade their offensive messages and inappropriate communications, giving false hope and outright lies.
It'd be nice if they would keep that crap to themselves.
Related Posts