[SOURCE]
Homosexuals of course cannot reproduce – they can only recruit. And recruiting children into this dangerous lifestyle has long been part of their agenda. There are plenty of ways in which they target children, and they have made their aims quite clear here.
Oh please, being gay is not a barrier to reproducing.  Why I myself had two little llamas by waving my people poker in the right direction.  In fact many gay couples do reproduce, you do know how it works don't you Billy?  And what's this about recruiting?    It must be so terrific to live in such a fantasy world!  Many Saturday mornings I've stood outside Woolworths handing out "Join the Gay Club" brochures.  To date I've not recruited a single guy to the cause.  The Head Pooh Jabber is going to take away my gay badge and I'll have to go back to straight sex.  Oh the shame!
Apparently we make our aims clear:
Way back in 1987 for example we had this now infamous declaration of war against our children made by the homosexual militants: "We shall sodomize your sons, emblems of feeble masculinity, of your shallow dreams and vulgar lies. We shall seduce them in your schools, in your dormitories, in your gymnasiums, in your locker rooms, in your sports arenas, in your seminaries, in your youth groups . . . Your sons shall become our minions and do our bidding. They will be recast in our image. They will come to crave and adore us."
This 1987 'example' is a bit of satire, read about it here, this doesn't stop Billy and all his other fuckknuckle mates from quoting it as if it is the "Gay Agenda".  Even a cursory reading should show you that it's not serious.
Well, I'm off to close a few churches, there should be a few free men there that I can recruit and sodimise.  Head Pooh Jabber will be pleased.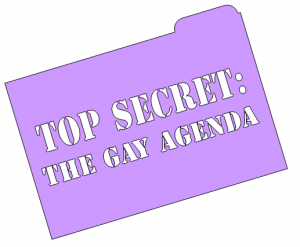 Related Posts