[SOURCE]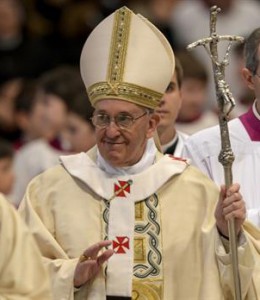 Anyone would think that the new pope Franky was a good thing.  He may seem to like the gays and the atheists and even the poor.  I haven't yet heard anything decent come out of his mouth that can't be read as nothing more than catholic traditional teachings.  Basically the church is still a blight on our society, regardless of who the head man is.  Sure, sure, he wants to live in a little apartment and drive his own car, good for him.  That's a bit like changing one light globe in your house to something more energy-efficient and pretending you just saved the world from global warming.
In his first every christmas message as the pope, Franky had a call to atheists.
"Peace is a daily commitment. It is a homemade peace," he said.
Looking for something here that may suggest that the leaders of nations should be working toward peace… no, not here, maybe further on.
He said that people of other religions were also praying for peace, and – departing from his prepared text – he urged atheists to join forces with believers.

"I invite even non-believers to desire peace. (Join us) with your desire, a desire that widens the heart. Let us all unite, either with prayer or with desire, but everyone, for peace," he said, drawing sustained applause from the crowd.
You lot have prayed for peace for thousands of years and yet it still hasn't happened.  Why is that?  Doesn't your god listen to you?  Instead of preaching to the poor little people, why not issue the challenge to the leaders of the nations that continue to throw their resources at fighting battles about stupid things.  And to suggest that 'non-believers' need to be invited to desire peace is such a crock of Franky poo.  It sounds like atheists really want to be at war!
"God is peace: let us ask him to help us to be peacemakers each day, in our life, in our families, in our cities and nations, in the whole world," he said.
Oh bullshit, open your bible Franky:
Do not suppose that I have come to bring peace to the earth. I did not come to bring peace, but a sword. For I have come to turn a man against his father, a daughter against her mother, a daughter-in-law against her mother-in-law a man's enemies will be the members of his own household.1
If you want peace in the world the last thing you need is a catholic telling you how to get it.  All around the world we have religious people praying for our armed forces, that's code for wanting god on your side to destroy the enemy without causing any harm to our guys.
In his speech, Francis asked God to "look upon the many children who are kidnapped, wounded and killed in armed conflicts, and all those who are robbed of their childhood and forced to become soldiers".
It's a pity that god isn't being asked to look upon those priests that rape the children and prevent it.  It's a nice sentiment but really the problem isn't the children, it's the adults that use and abuse them.
This pope if he really wants to make a difference in the world needs to call out the people who are actually causing the wars, the ones that are really abusing the kids.  It's the political leaders of this world that need to be named and shamed.
Start with Tony Abbott and asylum seekers.  Putin and gay rights, Obama and Afghanistan.
Related Posts