If we have found in Jesus meaning for our own lives, we cannot be indifferent to those who are suffering and sad.

— Pope Francis (@Pontifex) June 22, 2013
This is some sort of joke yes? The man who catholics have dubbed pope, Poppy Franky, is telling us that he isn't indifferent to those who are suffering and sad.
Tell me what it is when a new church can be built for $8.9 million dollars in Aiken, South Carolina where 27% of homeless people in the state are families.
How would you describe the erection of a $2.9 million church on the Gold Coast when the schools are over crowded. Only an indifferent parish would pour the money into a church that will be use a couple of times a week, rather than an educational building that would be used everyday of the week and is free on Sundays.
What words to use to understand why 1 in 4 people in Philadelphia are hungry and yet the Catholics can build a $9.6 million church in Downington? How many fridges, stoves and rice can that much money buy?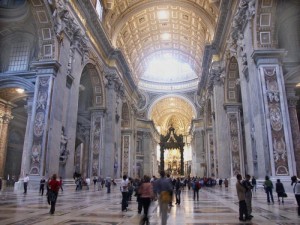 There are plenty of examples around the world of people, some of them catholic, doing great things for the poor and down trodden. Yet, here we have a pope, that despite his claims to care about the poor, still lives in a huge palace the likes of which the world has never seen. He presides over the richest institution of all time and still we have suffering and sad people. Catholics pretend to have found jesus and have meaning in their lives and yet they continue to build useless buildings that do nothing for those who are suffering.
How is this anything but indifferent?
Related Posts